The RU-N Classic is coMPact Tauto water purification system for optionally producing both pure water and ultra-pure water without the need for pre-purified feed. It can deliver up to 25 liters pure water of 1~5 μ s/cm conductivity or 18.2 MΩ-cm resistivity ultra-pure water with TOC<10ppb direct from public piped water supply per hour. This makes the Tauto RU-N the cost-effective choice with flexibility for many laboratory applications.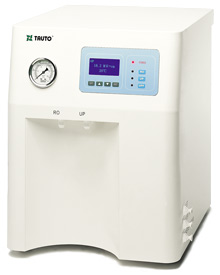 Features
Full automation microcomputer control ensures instant use without caretaker.?
Big blue LCD enables man-machine conversation
Online monitoring on RO and Ultra-pure water production enables real time display of water quality
Log-on and time RO membrane purge increase service life
Water quality alarm parameter is adjustable according to actual demand
Membrane switch gives more advance and more humanistic operation.
Internalrecycle sterilization purification device maintains the optimum performance of product water
Auto-protection function enables auto-stop when in the case of underpressure and short of water
The water production cost is very low and is only 1/15 cost of water distiller
Consumable change reminder to prevent decline in product water performance
Very low noise, not more than 40dB one meter away.?
Special designs increase the rate of recovery up to 70%.
High-quality imported core groupwares satisfy strict demands of laboratories.
SPECIFICATIONS
Model

RU-N

-5

-15

-25

-30

-40

Source

Public piped water(Pressure:0.5~4.0 bar)

Power supply

AC220V/50Hz

Production rate at 25°C

5 L/H

15 L/H

25 L/H

30 L/H

40 L/H

Flow rate

≥2.0 l/min

Product water performance

RO

Conductivity

1~5 μs/cm

Rejection rate

Monovalent ions and polyvalent ions>99.5%, Dissolvable organic substance>99%, Particles>99%, Micro-organisms>99%.

UP

Resistivity

18.2 MΩ·cm

TOC

<10ppb

Total Si

<1.0μg/l

Dimensions /L×W×H

400×460×500mm

Temperature

0~45℃

Humidity

≤85 %RH, Avoidance of corrosive gases

Application area

HPLC, Amino acid analysis, Atomic absorption/emission, BOD/COD, Ion chromatography, LC-MS, Gas Chromatography/GC-MS, Trace metal detection, General instrumental analysis, Production of Analytical and reagent, Medicament, etc.